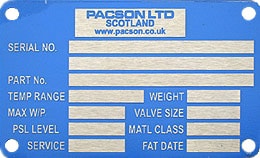 Why engraved labels are important for your products and equipment
Engraved labels can be used in a wide range of contexts. For example, companies can have their brand designed in a plaque, which helps to create an identity for the business. Other common uses are the memorial or commemorative plaques, for important events such as college graduation. But some equipment really needs labels or tags since there are standards to be met, ensuring safety and product quality. That is the case for many manufacturing and engineering companies.
Understand the importance of engraved labels
For each type of product, there is a set of standards that ensure the quality, efficient usability and a safe use. So when a product is approved or checked according to some ISO, LEAN or a similar standard, the company needs to record that. This can be done using labels or tags. Examples of information that could be engraved are:
Besides the compliance with standards, these labels can be used for logistics, maintenance and inspection purposes. When you have to work with many machines, it is essential to keep track of the maintenance and inspection. After all, the good functioning of the equipment is necessary to keep a safe workplace.
Managing and planning the maintenance and inspection of your equipment is a part of every business routine. Not only because there are UK laws for commercial and industrial activities, but because planning can save your time and cut costs. The labels will help you to strategically plan when it will be the next maintenance or inspection and when you will have to replace or fix some machine.
You can count on the experts to get the labels you need
Now that you learned the importance of labels, the next step is to find a reliable team to make your engraved labels. Here at the Able Engraving and Design, the labels are created according to your needs, be it a hand or machine engraving.
An if you are wondering if we can work with fragile or detailed pieces, the answer is a big Yes. Our team can offer a high-quality service, with laser engraving machines. Some of the common materials our clients ask us to work on are:
3 ply laminate (Traffolyte)
You can also count on us to create the design and choose the best material to be engraved. And since we have computer aided machines, we are able to work with large quantities if you need. So this is your chance to have high quality labels, adapted to your materials, with accurate engraving. You can get in touch with us by using the contact form, sending an e-mail to sales@able-engraving.co.uk or calling +44 (0) 1342 843211. We are looking forward to start your label project!