Why choose our Engraving in Kingston?
With a team that has 70 years experience combined between them, your project is in the very best hands. We strive for perfection and we aren't happy until you are. We are nationwide and can engrave pretty much any material that you would want to be engraved.
With so much choice, experience and competitive prices our engraving service is simply the best. So, if you have some engraving in Kingston to be done, look no further and contact us.
Our engraving and etching services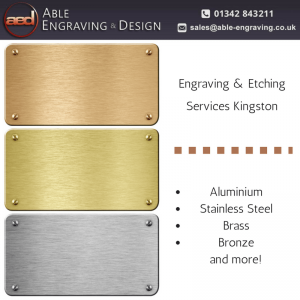 We can engrave anything from memorial plaques and safety signs, to gun handle designs. We can engrave in stainless steel, brass, bronze, aluminium, acrylic, 3 ply laminate and more. We have had happy clients from government departments, different institutions and many businesses, small and large. No job is too small or too large for our highly experienced team as we have everything we need to complete any job.
Engraving in Kingston with Able is highly recommended by many loyal content customers. We also have etching in Kingston too. We can etch text, logos and artwork onto aluminium, stainless steel, brass and bronze. This technique has been around for hundreds of years and is so effective for places that need highly durable signs.
We can also add colours, to make stand out signs etc, for example, safety signs often have red images on them, which we can easily do. Plaques can also be etched by our team and we can etch a wide range of images onto the plaques; combining tradition with modern to create a master piece.
Our etched plaques in Kingston are high quality and our team of perfectionists will provide an excellent finish for any request.
Contact us
If you would like to book in a project or if you would like a quote please contact us on: 01342 843211 or email: sales@able-engraving.co.uk. We look forward to hearing from you.