Aluminium Engraving
Able Engraving specialise in engraved aluminium products. Aluminium is an ideal choice of material for both outdoor and indoor signs and labels because of it's durable non-corrosive properties etc. Aluminium is lightweight and tough, and can be etched as well as engraved. Our engraved aluminium signs are available in silver, black or bronze anodised finish.
---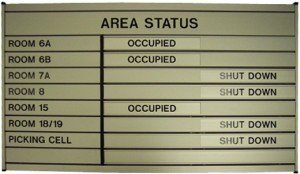 Our engraved aluminium sign directory systems (see example above) can provide an efficient, versatile and cost-effective solution for your internal sign needs. Ideal for reception areas and lift lobbies these expandable sign systems are manufactured to order to suit individual requirements.
---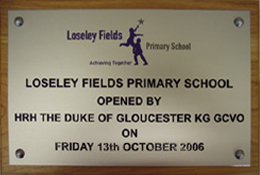 As with all our materials such as Stainless Steel, Brass, and Bronze, aluminium signs do not have to be square or rectangular in shape. We can cut all materials to any shape and size you require for your design.
For helpful and friendly advice on the our engraved aluminium products or any engraving services please call 01342 843211.