Brass Engraving
Able Engraving & Design offer brass plaque engraving services. Cosmetically brass is probably the most attractive material available and can be used both inside and outdoors. Brass is an alloy of different metals, including copper and zinc. Aluminium can also be added for additional strength, and a side effect of it is a beneficial layer of transparent aluminium oxide on the surface, protecting the engraved plaque further. As with our stainless steel, bronze and aluminium engraved signs, brass signs look particularly attractive when they are mounted onto a hardwood surround (usually mahogany or oak but other woods are available).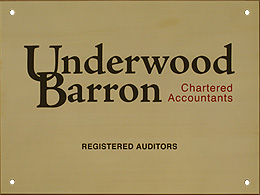 For an additional charge our signs can be lacquered and stoved to apply an attractive high gloss finish that prevents tarnishing and increases ease of cleaning. Brass can be engraved or etched and in single or multi-coloured designs. The copper in the Brass adds a small antibacterial quality, making cleaning a little easier.
As with all our other materials brass signs do not have to be square or rectangular in shape. Our London-based engravers can cut all materials to any shape and size you require for your brass engraving design, for a truly unique engraved plaque design.
For helpful and friendly advice on the above brass engraving products please call 01342 843211.