The material used to make a memorial plaque should ideally be able to withstand weather elements. Additionally, it should be great for ornamentation and shaping purposes. We, at Able Engraving and Design, understand the devastation and grief that occurs when a person you love passes away.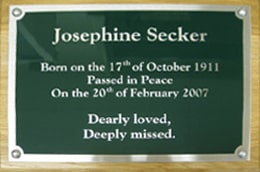 We can design a memorial plaque for you that will help you show the world what this person meant to you. The plaque can help you convey respect, history, and a sense of importance, including the impact that the deceased had in your life. We specialise in the following types of memorial plaques:
Engraved Memorial Plaques
Brass plates are the traditional materials used in making commemorative memorial plaques. Our engraved memorial plaques are normally scratch engraved through the use of unpainted letters. As a client, you can choose from thousands of images and a broad array of fonts that you would like used during engraving.
Depending on your specifications, the designer can also engrave more deeply. Once engraved, the letters can be filled with red, black, orange, green, or blue. For brass memorial plaques, they will need to be polished for them to remain shiny.
We understand that it can be difficult for clients to find the right words to use in a memorial plaque. Our personnel will work with you to help you find the perfect inscription to describe the recently departed.
Black Aluminium and Dark Bronze Memorial Plaques
The black engraved plaques are normally great for inscriptions as they are maintenance free and look quite smart. Our designers make them from 11.5mm dark bronze/black anodised aluminium.
Engraving occurs through the laminate layer in order to show the silver/white colour that lies beneath it.
Indoor Anoprinted Aluminium Memorial Signs
Signs inside shopping centres, schools, and courts tend to have a very difficult life. There are some people who love to pick the vinyl off thinking that using a coin to scrap the images off makes for a good time—passing activity.
With time, the signs are likely to become unsightly as the images and lettering are no longer unrecognisable. Anoprinted signs are different in that they tend to have a totally smooth surface. This makes them easy to clean while guaranteeing a long life.
Why Choose Able Engraving and Design?
Able Engraving and Design has been operational for more than thirty years. In addition to having experienced and customer mindful personnel, we specialise in engraving stainless steel, brass, bronze, and aluminium plaques. Our engraving services are affordable and we are happy to assist you with any enquiries.